One of the best functions of iPhone is that it can be used as a high-quality music player. But with all the apps available to choose from as a music player, it can be a bit confusing to decide which music player is best for your iPhone. Here we will clarify these doubts.
There's no doubt that listening to your favorite songs not only enhances your mood but also brighten your whole day. Music is a vital part of everyone's life, and people listen to music all the time, whether at work, at a workout, at a party, while they prepare a meal, take a shower or even do household chores.
Most people use the native music app on iPhone and iPad. And Apple did a great job, but Apple Music is basic, and the most demanding users might want more.
There are not dozens of options for this task, as there are in other application categories. And this is because most people migrated to streaming music. But for those who like to store the songs on their smartphone, this list is welcome.
There are some decent options for those looking for something a little different. Here are the best music player apps for iPhone and iPad.
Tip: How to quickly add music to iPhone? 
Before we move on to music players see how to import any music to the iPhone without having to use iTunes.
You can send any song to iPhone using WALTER software. Basically, all you need to do is connect your iPhone (via USB or Wi-Fi) and drag any music/video to your iPhone. Immediately, all content will appear on your device.
You can download the application by clicking on the 'Download' button below. Now that you know how to easily transfer songs to your iPhone, let's talk about the best music players for iPhone in 2019.
Best Music Players for iPhone in 2019
Boom Music Player is a good quality music player application for iPhone and iPad. It has a sleek user interface, many options for controls and some other fun features.
The app also accesses songs from your Dropbox or Google Drive accounts. This makes it a cloud music player, ideal for those who store music there. It also has an equalizer. It is a functional application with few bugs.
The application is completely free to use. There are in-app purchases for various theme packages. You can also pay to remove advertising.
Cesium is another very competent music player for iPhone and iPad. It's also quite simple and features a clean, lightweight interface, gesture controls, various sorting options, and some light customization options such as theme color and night mode. There really are not many extras, but everything works fine. It is an excellent music player, and quite simple. It's lighter than Apple Music and the gesture controls really work. The app has a cost of $ 10.90 and is totally ads-free.
Stezza Music Player is another simple solution for listening to music stored in internal memory. The application has a simple but elegant interface. This includes adaptive themes for album covers. So if the album color is yellow, the UI will also be. Some other features include support for video playback, support for accessibility and support for Pioneer AppRadio. There is not a large number of additional features in addition. The app costs $ 10.90, and thanks to the payment of this amount you will not see any publicity.
TapTunes is one of the most eye-catching music apps for iPhone and iPad. It does not have a lot of features. However there are plenty of customization options. You get five navigation views, gesture controls, Apple Watch support, and some customization settings. You also receive support for audiobooks and podcasts.
The UI is your claim to fame. You can customize it very well. However, in terms of pure functionality, it is still quite simple. The price is $ 1.99, with no additional purchases or ads in the app.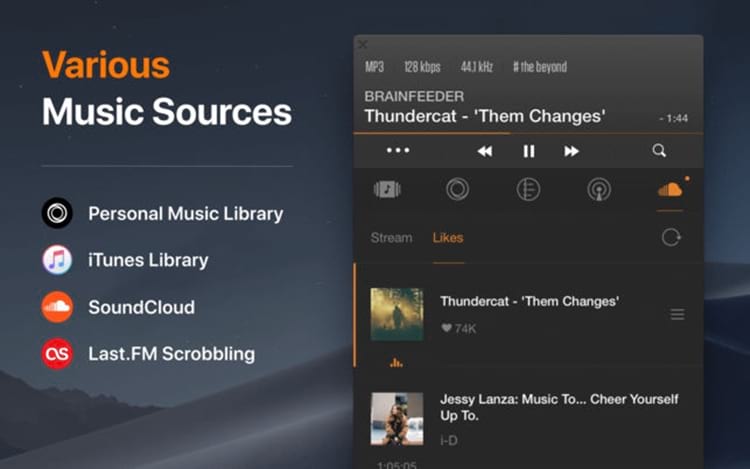 VOX is a powerful music player for iPhone. This one has a lot of features and it does from the basics, like playing music, until you completely equalize your sound.
It also includes a music streaming option for your own music. The latter requires a signature, however. The free version is still pretty good for listening to local music. Cloud storage and support for radio stations, as well as other streaming options, make it worth using. This is an excellent solution if you like to listen to music online and offline.
If you know of some great music player app for iPhone or iPad that is not on the list, tell us about them in the comments!
If you need help, have doubts or concerns, do not hesitate to leave a comment in the comment box below and we will try to help you as soon as possible!h